After a long time of hard work, you need peaceful rest in your home or office. But you can't do that for disturbing noise that comes from the inside and outside of the room.
In this situation, you can apply acoustic elements in a specific place to make a soundproof tent. You can also use a soundproof sleeping pod or capsule for your home.
In this post, I have shared a special way to sleep in a bed without noise.
Yes, I am talking about soundproof sleeping pods and some people also call them slumber pods or sleeping beds.
It has one type of noise-canceling bed tent so that sound waves can't flow directly through it. Before collecting this type of pod, you need to know important notes about it.
If you read these notes, you can know more about the right sleeping pod.
So don't skip…
What are Soundproofing Sleeping Pods for Home?
They are one kind of sleeping pod where people can sleep. This topic is not science fiction and this type of pod is found in the marketplace.
These pods have other names. Such as napping pods, nap capsules, nap rooms, capsule houses, etc.
A sleeping pod has a technologically advanced automatic system so that you can sleep in it like a baby.
After working hard, you can boost your energy level, and improve focus after taking almost 20-minute naps in this pod. So you can maintain your sleep routine by using these pods. (source)
Are Soundproofing Pods Worth It?
Though this type of pod is expensive, you can improve your concentration, and working focus by using it. Some people are confused about whether it is actually worth it or not.
In my study, I will say that this type of pod has the setting to reduce sound waves. Besides, you can sleep inside it with less disturbance, because it can reduce outside noise.
As a result, you can take a short nap quickly. For the insomniac person, this system may help for quick sleep.
It has an auto temperature and lighting system (electricity), and you can get facilities from that system.
This type of sleeping setting can't block outside noise but it can increase the comfort level and reduce noise so that you don't feel sound disturbed during sleeping time.
Besides, there is also another soundproof setting that you can arrange around your bedside. If you are curious about this system, you need this full article.
Here I have tried to share some sleeping arrangements that you may need seriously.
Factors Before Buying the Sleeping Pod
You should read these factors before collecting this type of pod.
1. Quality
If you don't get accurate facilities from the sleeping pod, it will not be better for you. So a good quality pod is necessary for you to get long-term sleeping facilities.
2. Reliable
You need to inspect which type of pod is used by most people and has a better positive rating. You can get the rating information of the sleeping pod in the description area when you collect it online.
3. Comfortable
You also need to inspect the sleeping pads if the bed surface is soft or not. That is why you need to check the fabric type of it.
4. Size
You need to check that your family members can also use this sleeping arrangement. That is why the selection of the pod size is also important.
5. Easy Control system for protection and safety
The pod that you choose, must have an auto-control system. So, you need to check which type of facility you can get from it.
6. Sustainable
A sustainable sleeping arrangement is also important if you want to use this for a long time. This term is also related to quality issues and you need to focus on this issue before collection.
Sleeping Pod or Chamber Alternative?
If you can not collect this type of expensive pod, don't be upset. The good news is that there are also some alternatives that you can apply in your place at a low cost.
Now, I am sharing some alternative ways that you may follow:
1. Blackout and Soundproof Bed Curtains for the Canopy
If you have a canopy bed or bunk bed, then you can make a noise-reducing system. You know that box-type bed frames are adjusted in this bed.
First, you need to collect a blackout and acoustic curtain from any market and hang it on that box frame. You need to hang this curtain around the bed so that it can absorb some sound waves.
2. Windproof and Acoustic Bed Tent
You can collect this type of acoustic tent from the market. When you need sleep, you can use this tent for deep sleep. When you collect this type of tent, you should check whether the fabric is acoustic or not.
3. Indoor Tent with the Acoustic Blanket
The other option is that you can make a temporary small tent inside your room when necessary. For doing that, you need to use a soundproof curtain or MLV.
Now the question is: how to make a DIY soundproof sleep pod (box) or how to make an indoor soundproofing tent?
I have shared (below) some easy steps in this article.
So don't skip….
How to Create an Indoor Tent with Soundproof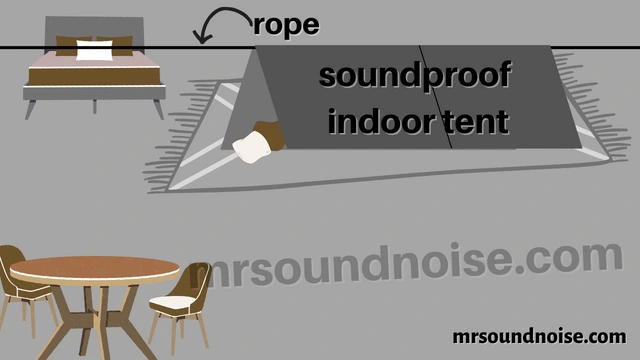 Here are the steps that you can follow to prepare a soundproof tent or insulated tent in your room. You can uninstall and install that tent at any time.
If you feel that suddenly outside noises are coming into your room, then you can apply this trick.
Step One: First see the image and inspect it carefully.
Step Two: Set a rope or string between two points of the room.
Step Three: Keep soundproofing room divider, curtain, or mass-loaded vinyl (MLV) over that rope (see the image). I think MLV works great for reducing sound waves. So it will be better if you can arrange MLV for this setting. Otherwise, you can use an acoustic curtain as an MLV alternative. Keep or place pillows inside this tent. Now you can sleep inside this DIY tent. (source)
Why Should You Soundproof Your Sleeping Tent?
When you take a rest in your room, unexpected noise may come from your children or new guests. So you can prepare a soundproofing tent for a short time.
This type of tent can't block 100% of noise, but it can reduce sound waves which are also useful. You can block maximum noise if you can manage MLV.
More Ways to Soundproof a Tent
You have learned to prepare an indoor tent but there are some more important notes that you need to know for reducing noise.
Sometimes, you use a portable tent and you need to increase the insulation level of this tent.
How?
By following some easy tips, you can be able to set up acoustic material and soundproofing accessories. They are:
1. Increase Insulation for Temperature and Noise Control
Like a sleep shed, you can add more insulation by overlapping the MLV layer which works great. You can collect MLV (acoustic panels) online.
If you don't manage this MLV, then you can use the acoustic curtain to increase the layer of the cloth of the tent.
2. Place Acoustic Carpet
When you complete the setting of the tent, you need to place an acoustic carpet or underlayment layer on the ground surface of the prepared tent. This will block ground noise or floor sound instantly.
During your sleeping time in the tent, you may use a sleeping machine that helps you by merging noise.
4. Use Headphones for Noise Reduction
This is also a better option to keep acoustic earmuffs with you. You can use these highly advanced headphones when you need a silent area.
This is how you can prepare a noise-canceling tent at any time.
N.B: If you want to reduce noise, you can use a soundproof sleeping bag inside the tent.
Other issues are that you may need to get extra benefits according to your budget range. That is why you need to know some more soundproofing tips that I have given below.
Soundproofing the Bed Area: Sleeping Pod Alternatives
These relaxation pods are not the total option for reducing the sound wave inside your room. Now, I am sharing some tricks to block the transfer of maximum noise in your room.
1. Soundproofing Window and Door
Window and door are the main noise source where you need to install acoustic elements. To know easy guidelines, you can read these two topics: window soundproofing with tips and door soundproofing with easy guidelines.
2. Laminate the Floor with the Acoustic Layer
You need to use a soundproofing layer on the floor surface. Some reliable acoustic layers are MLV, underlayment, etc.
3. Install Acoustic Material on the Ceiling
To keep your room silent, you also need to adjust some acoustic elements to the ceiling section. You may read this article: how to block noise from the ceiling.
4. Increase Wall Insulation
You can insulate the wall by attaching the MLV layer. After that, you can attach an acoustic foam panel over that layer.
Before installing these accessories, you need to fill a small gap and hole with a sealant that can block the noise. So soundproofing the wall surface is important to block the transfer of noise.
5. Soundproofing Total House
In the marketplace, you can collect soundproof bed tents if you want a ready setting.
If you want to get the guidelines, you can read this article (soundproof the house) will be helpful to you.
What can You Put Under Your Bed to Reduce Noise?
You can increase the floor layer by mass load vinyl, underlayment, or another acoustic carpet. This setting will block maximum floor noise instantly.
If the noise directly comes from the bed, then you can set up a box spring bed. If the noise comes from the bed frame, you need to follow some tricks that I have already said.
My Viewpoint
In summary, I want to say that you can manage a soundproof setting indoors and outdoors. You can prepare an acoustic indoor tent for temporary use.
This needs low cost if you apply this setting in your room. In this post, I have shared this idea with some notes.
Besides, you can install acoustic accessories to the camping tent (already shared details in this article).
You can use a nap pod for relaxing sleep but this may be expensive for you. As my suggestion, the best way is to soundproof your living area at a low cost.
I have written some articles about this type of acoustic guidelines, you may read these.
Here, I have shared some questions and answers in the FAQ section that are related to the topic of this article.
FAQ: Soundproof Sleeping Pod and Capsule for Home
Do Sleeping Pods Exist and What is the Sleeping Chamber?
It is one kind of capsule bed that helps you to sleep quickly. It has some automated systems that you can easily use.
This type of tranquility pod is expensive and you can't find it everywhere. It is one kind of room where many sleeping capsules (for home and office) exist.
Anyone takes a rest in these pods when necessary.
How Do Sleeping Pods or Capsules Work?
This setting has an automated system that you can control by using buttons. Suppose, if you want to sleep twenty minutes, then you can use the button.
After that specific time, that pod makes a vibration and emits light so that you can wake up.
If you use noise-reducing headphones or soundproof sleeping helmets while sleeping in that pod, it will be better.
Do Sleep Pods or Sleep Capsules Have a Soundproof System?
It has an acoustic setting and you can relax in it. Because it can reduce some outside noise and it plays beautiful music for relaxation.
If you want a more soundproof area in this sleep dome, you can use acoustic ear muffs.
Why are Sleeping Pods Good for Employees?
After working hard, employees or office workers of the workplaces need to rest for a short time.
After taking a rest, they can improve their skill, concentration, and creativity. As a result, the percentage of the employee absent will be reduced.
This type of regular rest may improve the health condition of the employee.
How Much Does a Sleep or Nap Pod Cost?
Though this type of nap pod is not available everywhere, you need a high budget to collect it. The cost may be between $8500 – $12500 and this cost may vary.
How Do You Apply a Soundproof Setting in a Camping Tent?
I have already talked about this issue and you can get information from this post. If you want to know the details, you need to read this full article.
You can attach the MLV or acoustic curtain to increase the layer of the tent cloth. Besides, you can place underlayment or acoustic carpet on the ground surface of this camping tent.
You don't allow any gaps or holes in the tent fabric. If you see any kind of gaps, close them immediately so that outside noise can't enter inside this tent.
Can You Soundproof a Wedding Marquee?
You can set up the acoustic-type wedding marquee by following the same technique as a camping tent. But you need extra cost to implement this setting.
After this setting, a high volume of sound doesn't go out and outside people don't get disturbed.